On August 12, 2012 Aki Ra was honored by the Manhae Foundation, in Inje, Republic of Korea, with the 2012 Manhae Foundation Grand Prize for Peace. It was awarded to him for his continuing efforts to free Cambodia from the ravages of nearly 35 years of warfare. The legacy of this terrible period has been the landmine, a perfect soldier, that continues to fight and destroy lives for decades.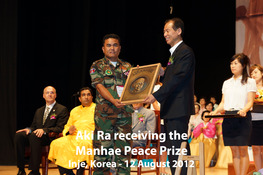 Aki Ra stated that he was humbled and honored by the recognition of the Manhae Foundation. He also wants all to know that he is only one of many working to make Cambodia a safer place for all. Organizations from across the globe have been working in Cambodia for decades to clear these terrible weapons, and while he is overjoyed that people have recognized his efforts, he accepts this award on behalf of everyone, around the globe who is contributing to end the scourge of landmines and other remnants of war.
www.landmine-relief-fund.com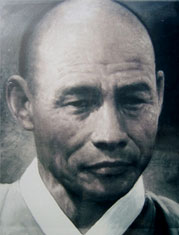 The Society for the Promotion and Practice of Manhae's Thoughts established the Manhae Prize (Manhae Daesang) in memory of, and for the dissemination of, the high thinking and noble mind of Reverend Manhae(1879-1944).
Manhae was born in southern Chungcheong province South Korea. Prior to being ordained as a Buddhist monk, he was involved in resistance to Japanese influence in the country, which culminated in the Japanese occupation from 1905-1945. The same year the occupation began, 1905, Manhae was ordained as a Buddhist monk at Baekdamsa temple on Mt. Seorak.
As a social writer, Manhae called for the reform of Korean Buddhism. Manhae's poetry dealt with both nationalism and love, one of his more political collections was Nimui Chimmuk(님의 침묵), published in 1926. These works revolve around the ideas of equality and freedom, and helped inspire the tendencies toward passive resistance and non-violence in Korean independence movement.
His poems mainly concern his philosophical meditation on nature and the mystery of human experience.
Aki Ra's comments on receiving the Manhae Grand Prize for Peace:
Dear Manhae Foundation,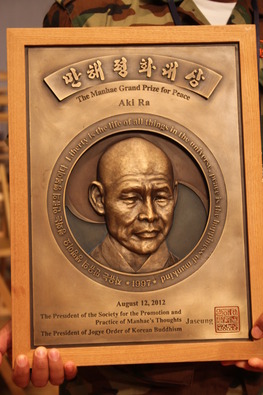 I would like to thank you for this very great honor. The work we do in Cambodia to make our country safe often goes unrecognized and I am grateful whenever the world takes notice of the difficulties we, and other countries, contend with in dealing with the aftermath of wars that ended many years ago.
The many people who were forced to fight in the 35 years of war in Cambodia had no choice. The war made them become what they became. We can never forget what happened here, but we need to move forward, and make a better country for our children.
Cambodia has received a lot of help from many countries around the world. I became involved in clearing landmines because I want to make my country safe for my people. We are assisted by people from all over the world, and I am grateful for the help.
While my country is getting better, many people live without clean water, electricity, health care and most of all education. As well as clearing landmines with our landmine NGO, I started the Landmine Museum Relief Center to care for children from small villages who were landmine victims, were born with a handicap, were orphaned or come from families too poor to care for them. Our Relief Center houses them, cares for them and provides them with a university or trade school scholarship. And it is done without making them a spectacle. They live in their own village where they thrive. The Relief Center is not a rehabilitation sight. That is provided by the government and international NGOs and we take advantage of everything that is available. Our Center gives the children a solid home and a future. Tourists can support them by visiting the museum, but their home is closed to visitors.
Our country has many landmines left. It also has many unexploded bombs and artillery shells left over from the war. I will continue to dedicate my life to making my country safe for my people.
Again, thank you for the recognition and this great honor. It is with this kind of help that my country and many others can be free from landmines in our lifetime.
YOU CAN SUPPORT AKI RA AND HIS WORK BY DONATING TO HELP CLEAR A MINE FIELD.
DONATE AT:
CLICK ON THE DONATE BUTTON